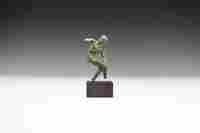 Roman Discobolus Statuette
Related Statues & Statuettes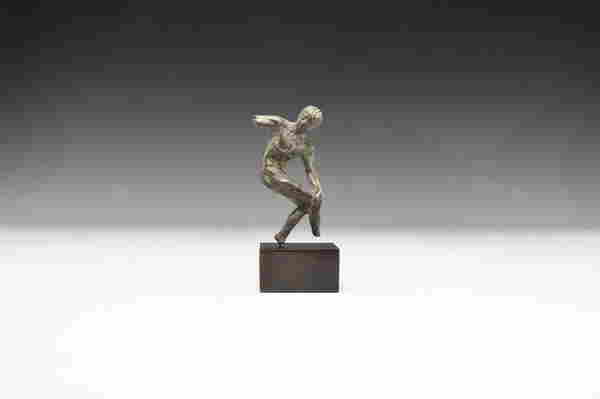 Item Details
Description
1st-3rd century AD. A Roman bronze copy of the 5th century BC Greek statue of the athlete The Discobolus of Myron, the discus thrower, a nude male figure in active pose with right arm extended to the rear, left hand stretched across the right knee; with a custom-made display stand. Cf. a marble copy of the Greek original in the British Museum under accession number GR 1805.7-3.43. known as the Townley Discobolus. 231 grams, 11cm including stand (4 1/4"). Found East Anglia, UK, before 2000. The Greek sculptor Myron came from Eleutherai, on the borders of Attica and Boetia, and worked through the Early Classical period. According to Pliny he was the apprentice of the famed sculptor Ageladas, as were other major fifth century sculptors such as Phidias and Polyclitus. The majority of his work that can be dated come from between 450 and 440 BC and he was regarded by ancient writers as being on the threshold of realism in sculpture, though lacking in emotion. His most famous statue was a bronze cow on the Acropolis which was often mistaken as being real by those who saw it for the first time. His Discobolus, or discus thrower, is easily recognised in copies from the Roman writer Lucian's description in the Philopseudes: stooping in the pose of one preparing to throw, turning towards the hand with the discus and gently bending the other knee, as ready to rise and cast. The original was a bronze statue, with all of the later, large scale Roman copies, being in marble, with a few smaller bronze copies being known. The head has touches of the Archaic Period style, as displayed in the cap of hair in the form of shallow carved ringlets. Despite the apparent freedom of the pose the figure is cut in one plane, for a single viewpoint, like high relief without a background. The only known copy in which the head is shown in the correct position is that found on the Esquiline Hill in Rome and now in the Terme Museum. [A video of this lot is available on the TimeLine Auctions website]
Condition
Fine condition. Rare.
Shipping, Payment & Auction Policies
Ships from London, United Kingdom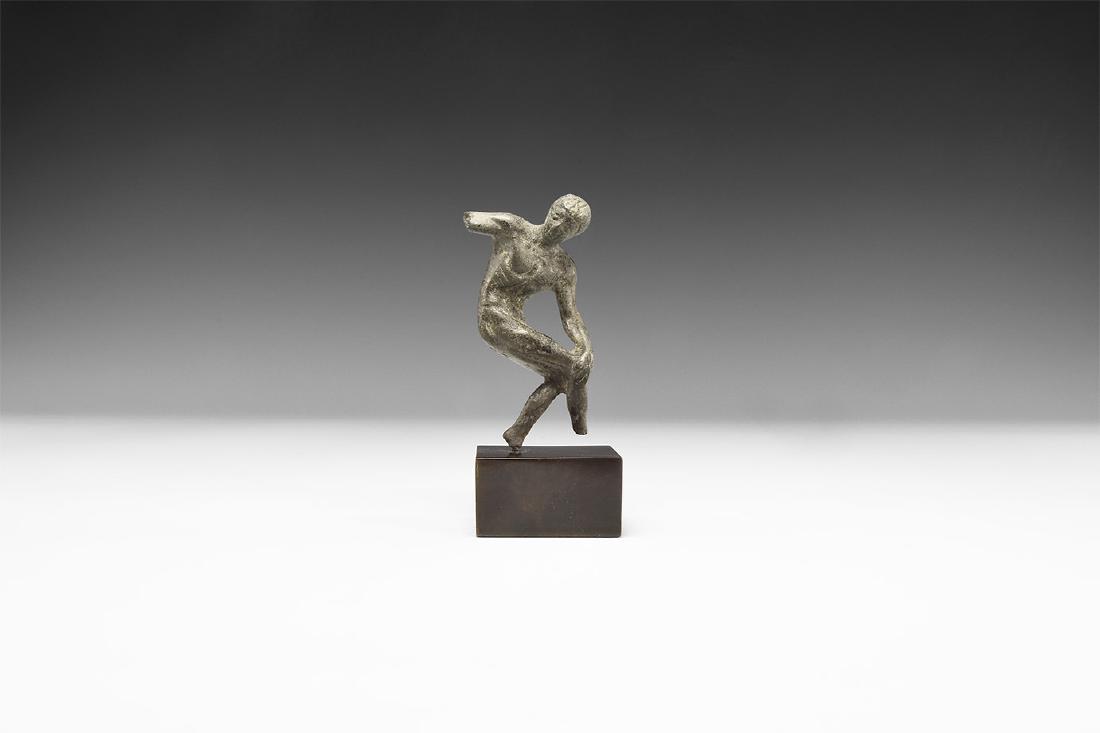 0140: Roman Discobolus Statuette
Est.

£1,200

-

£1,700
•
Starting Price

£1,000
TimeLine Auctions - Antiquities, Day 1
Feb 21, 2017 4:00 AM EST
Buyer's Premium 29%
Lot 0140 Details
Description
1st-3rd century AD. A Roman bronze copy of the 5th century BC Greek statue of the athlete The Discobolus of Myron, the discus thrower, a nude male figure in active pose with right arm extended to the rear, left hand stretched across the right knee; with a custom-made display stand. Cf. a marble copy of the Greek original in the British Museum under accession number GR 1805.7-3.43. known as the Townley Discobolus. 231 grams, 11cm including stand (4 1/4"). Found East Anglia, UK, before 2000. The Greek sculptor Myron came from Eleutherai, on the borders of Attica and Boetia, and worked through the Early Classical period. According to Pliny he was the apprentice of the famed sculptor Ageladas, as were other major fifth century sculptors such as Phidias and Polyclitus. The majority of his work that can be dated come from between 450 and 440 BC and he was regarded by ancient writers as being on the threshold of realism in sculpture, though lacking in emotion. His most famous statue was a bronze cow on the Acropolis which was often mistaken as being real by those who saw it for the first time. His Discobolus, or discus thrower, is easily recognised in copies from the Roman writer Lucian's description in the Philopseudes: stooping in the pose of one preparing to throw, turning towards the hand with the discus and gently bending the other knee, as ready to rise and cast. The original was a bronze statue, with all of the later, large scale Roman copies, being in marble, with a few smaller bronze copies being known. The head has touches of the Archaic Period style, as displayed in the cap of hair in the form of shallow carved ringlets. Despite the apparent freedom of the pose the figure is cut in one plane, for a single viewpoint, like high relief without a background. The only known copy in which the head is shown in the correct position is that found on the Esquiline Hill in Rome and now in the Terme Museum. [A video of this lot is available on the TimeLine Auctions website]
Contacts
TimeLine Auctions Ltd.
+44 (0) 1277 815121
LiveAuctioneers Support
info@liveauctioneers.com