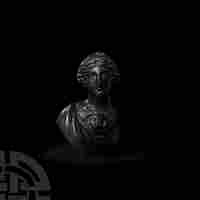 Roman Aequipondium Bust Trade Counterweight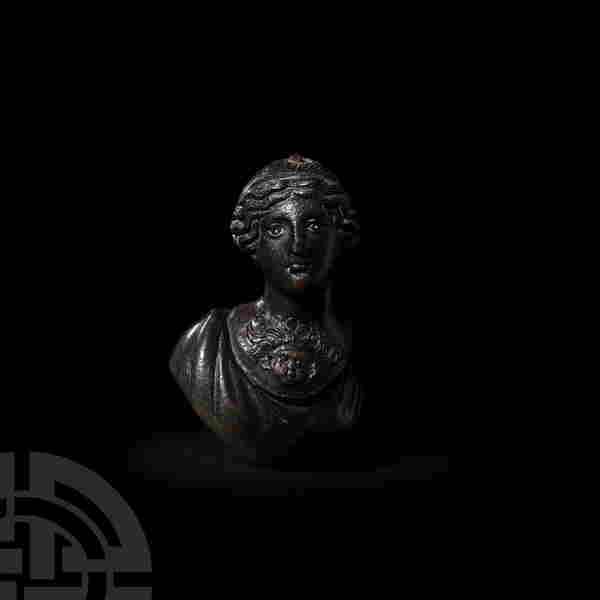 Item Details
Description
3rd-4th century A.D. An elegant bronze counterweight for a balance shaped as a bust of Minerva, dressed in a garment (possibly a peplum) with a flamed gorgoneion resting on the upper part of the chest; dressed hair divided by a diadem, remains of suspension ring to the top of the head, lead core; an inscription to the base: 'L.H.ERRIVS.EROS.RF?' with the first character unclear and three last characters are of uncertain interpretation. See Bolla, M., Le misure dei Romani (Weights of the Romans, in Italian), Verona, 2017, pp.8-9, fig.12; Corti, C., 'Pesi e contrappesi (Weights and counterweights, in Italian)' in Corti, C. & Giordani, N., Pondera. Pesi e Misure nell'Antichità, Modena, 2001, figs.121, 128. 235 grams, 61 mm high (2 3/8 in."). German art market, 1990s. Mr A.H., a North American collector living in the UK. Accompanied by an archaeological report by Dr Raffaele D'Amato. This lot has been checked against the Interpol Database of stolen works of art and is accompanied by AIAD certificate no.11228-189046. The small bronze, which is influenced by strong Hellenistic elements, bears an inscription in Latin and Greek letters on the bottom, which demonstrates how the counterweight was endowed by an imperial officer with official duties of weight checking. This implied that the bronze was part of a handcrafted steelyard (stadera) made by specialised craftsmen, as evidenced by the refinement of the face and by the high level of workmanship. The inscription probably bears the name of the verifier who was usually a praetor aedilis. The first character is not easily readable, while the name L.H.ERRIVS.EROS.RF? is evident. The last three letters are of uncertain interpretation, although the last could consist of the transliteration of the Greek letter Lamda (?) intended as a litra. The letters of the Greek alphabet could in fact be used to indicate the weight values: one for the unit of measurement of reference, and one for the numeral. [A video of this lot is available to view on Timeline Auctions Website]
Condition
Very fine condition, some separation.
Roman Aequipondium Bust Trade Counterweight
Get pre-approved to bid live.
Shipping, Payment & Auction Policies
Ships from MayFair, London, United Kingdom
Related Searches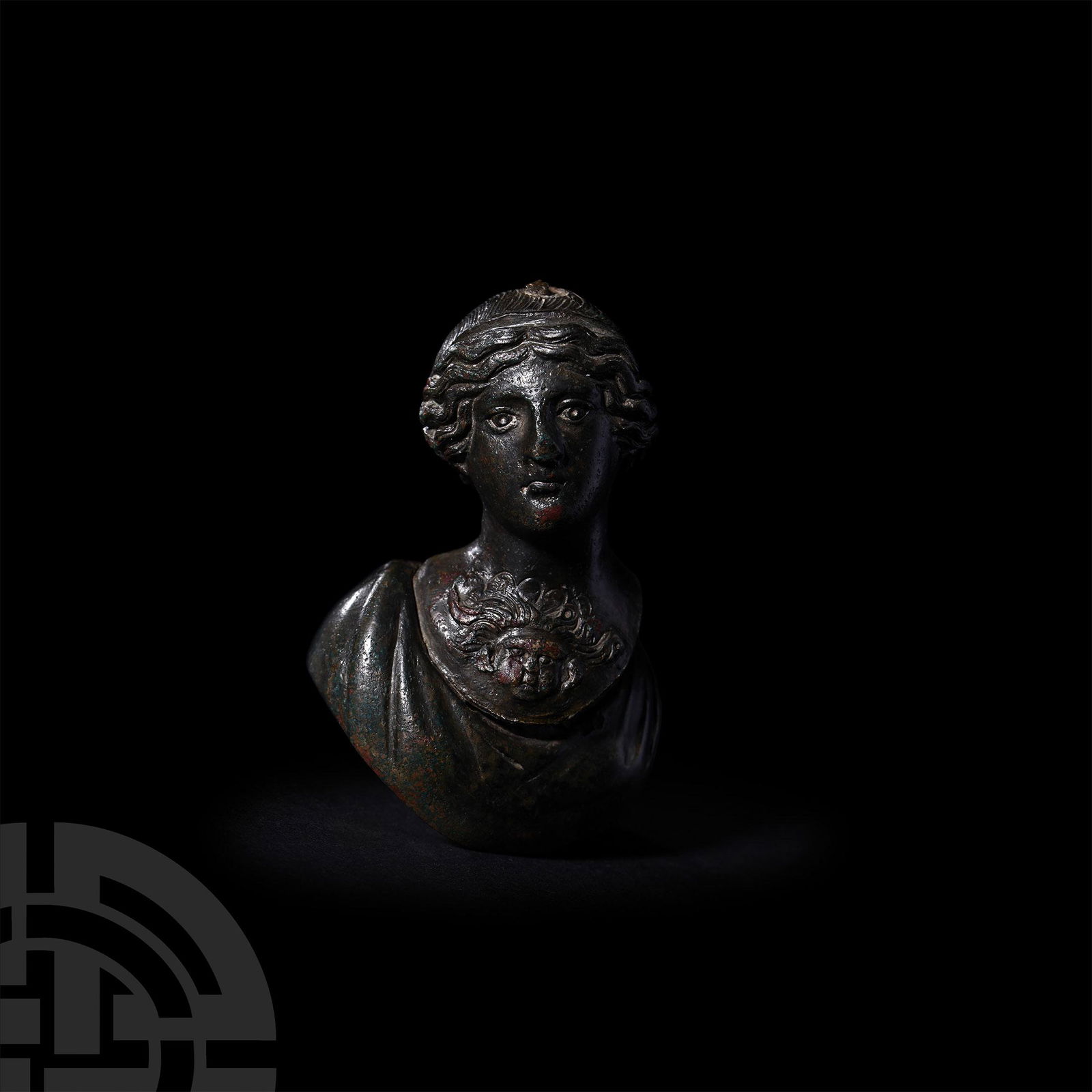 0090: Roman Aequipondium Bust Trade Counterweight
Est.

£3,000

-

£4,000
•
Starting Price

£2,600
TimeLine Auctions Antiquities Sale - Day 1
May 24, 2022 4:00 AM EDT
Buyer's Premium 35%
Lot 0090 Details
Description
3rd-4th century A.D. An elegant bronze counterweight for a balance shaped as a bust of Minerva, dressed in a garment (possibly a peplum) with a flamed gorgoneion resting on the upper part of the chest; dressed hair divided by a diadem, remains of suspension ring to the top of the head, lead core; an inscription to the base: 'L.H.ERRIVS.EROS.RF?' with the first character unclear and three last characters are of uncertain interpretation. See Bolla, M., Le misure dei Romani (Weights of the Romans, in Italian), Verona, 2017, pp.8-9, fig.12; Corti, C., 'Pesi e contrappesi (Weights and counterweights, in Italian)' in Corti, C. & Giordani, N., Pondera. Pesi e Misure nell'Antichità, Modena, 2001, figs.121, 128. 235 grams, 61 mm high (2 3/8 in."). German art market, 1990s. Mr A.H., a North American collector living in the UK. Accompanied by an archaeological report by Dr Raffaele D'Amato. This lot has been checked against the Interpol Database of stolen works of art and is accompanied by AIAD certificate no.11228-189046. The small bronze, which is influenced by strong Hellenistic elements, bears an inscription in Latin and Greek letters on the bottom, which demonstrates how the counterweight was endowed by an imperial officer with official duties of weight checking. This implied that the bronze was part of a handcrafted steelyard (stadera) made by specialised craftsmen, as evidenced by the refinement of the face and by the high level of workmanship. The inscription probably bears the name of the verifier who was usually a praetor aedilis. The first character is not easily readable, while the name L.H.ERRIVS.EROS.RF? is evident. The last three letters are of uncertain interpretation, although the last could consist of the transliteration of the Greek letter Lamda (?) intended as a litra. The letters of the Greek alphabet could in fact be used to indicate the weight values: one for the unit of measurement of reference, and one for the numeral. [A video of this lot is available to view on Timeline Auctions Website]
Condition
Very fine condition, some separation.
Contacts
TimeLine Auctions Ltd.
+44 (0) 1277 815121
LiveAuctioneers Support
info@liveauctioneers.com